*This post may contain affiliate links. If you purchase items through these links, I may receive a small commission which helps support running MusicOnACart.com at no additional cost to you.*
It's already been said a million times...the year 2020 threw everyone for a loop. No one could have foretold a virus that would confine so many to their houses all across the globe and force schools to suddenly close for prolonged amounts of time. It's jarring in many ways. And now, several months later, there is still much uncertainty. Much thought goes into each next step that's taken, and we slowly approach things that we once took for granted.
Typically each summer, I see an uptick on the MusicOnACart.com website from music teachers who have found out their next year's assignments and for whatever reason are told they must teach their music classes from a cart. This summer, the searches and inquiries had an additional twist. The questions came from music teachers who may be faced with cart teaching due to COVID-19 protocols put into place by their school districts...if they are teaching in person at all. Even though I've addressed a lot of cart teaching questions on this website, I wanted to share these three additional thoughts leaning more towards the current situation due to this virus that has changed the typical way we've approached things. So let's delve right in!
Disclaimer: I am not a licensed medical professional or psychologist. I'm merely sharing my thoughts and ideas, from one music teacher to another!
1) Cart or. . . no cart?
I've outlined in great detail the options that teachers have in selecting a cart for their music teaching situations and needs. Yet in this time of COVID-19, you may want to consider additional options. For example, you may not need a great amount of cart space due to a restriction of instruments and manipulatives you're allowed to use (I'll touch more on that later in this blog). Maybe a large tote bag might work better for your situation. Maybe a smaller, collapsable teaching tote with a telescopic handle might be enough. Take some time to sit down and brainstorm what might be your most used items for your lessons and then evaluate how much space you'll truly need to bring those items from classroom to classroom.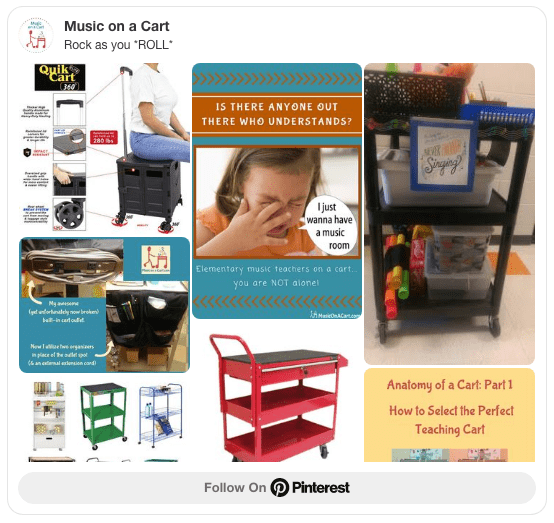 Get inspired by other teachers who have rocked out their carts for teaching classroom to classroom.
Check out the "Rock as you *ROLL*" board on MusicOnACart.com's Pinterest!
2) Communication
I've outlined this point in prior blogs, but it bears repeating. Even though everyone is overwhelmed at the sheer amount of change going on and things being switched up minute by minute, you should be the one to take the initiative to communicate with your fellow colleagues whose rooms you'll be teaching in and also communicate with your principal regarding your questions and needs. This includes safe storage of music items that you won't be using daily and a place for you to have a "home base" of sorts to keep your daily, most used teaching materials accessible to you. Don't be afraid to speak up multiple times if necessary, because things may fall to the back-burner unless you're the squeaky wheel (pun totally intended 😉 ). You'll also need to be in communication regarding what materials you'll be permitted to use with your students in your lessons and ways in which they want you to disinfect those items, and frequency of disinfection. Rather than going to your principals and asking if certain instruments are okay to use, be proactive by having a game plan already set in your mind (or write it down) as to how you plan on making an instrument or manipulative safe in these disinfecting days and communicate that to them.
3) Curriculum
A major point I share with people whom I advise is: Don't. Chuck. Your. Entire. Curriculum. Don't do that! Sometimes, in the panic of hearing you're being placed on a cart, your mind can automatically go to thoughts like, "I can't teach any of my lessons anymore, what am I going to do?!?" Don't throw out the proverbial baby with the bathwater. First of all, start in small chunks. Begin your focus on activities for just the first few weeks back. Since it's usually a time of transition and new things (and even more so now), I highly doubt anyone is expecting the most thorough, detailed, 'pull out all the stops' lessons as soon as you start back up again. You're not the only one in transition and uncertainty, so as you hopefully give grace to your students, give some grace to yourself as well. Meaningful music making is not complex. Start with modifying the first 2 or so lessons you've used in the past and be open to changing things as you go, because once you've had a week or two or even three under you're belt, you'll have a better idea of how to further tweak and adapt your past lessons to your current situation. It's at that point that you can sit down with several months of units or your yearly scope and sequence and decide how to take what you have and make it work. Too often people freeze in overwhelming fear of needing to know how to do ALL their lessons on a cart immediately. Don't do that. Just start small.
Let's take a moment to discuss music teaching materials and manipulatives. I've already mentioned in the previous point that you want to talk with your principals (if they haven't already made it known to you) so you're certain exactly what materials you're allowed to use. Which instruments in your possession can be easily disinfected without damaging them? What can you laminate for easy cleaning? Do you even WANT to be disinfecting so many items? Maybe it's more beneficial to give your students personal manipulatives that won't be shared. Are your students old enough to have a hand in making those manipulatives so you won't have to? This could be the case for upper elementary grades and above. If they can take some of that prep work off your hands, by all means, take a lesson time and have them make it!
How about storing these individual student music items? Even if students keep their music manipulatives and instruments in separate plastic bags, you might not be allowed to have them toss those bags in a bin or box in their classroom. They may have to keep them in their own desks so there's no cross contamination, but that works even better for you because there's less for you to lug or keep track of.
If you're limited on what music activities you can do, don't give up...think creatively! For example movement is soooo much more than moving from one place to another in the meter or dynamics of music. There's so much more to be explored without the need for massive space. Students can explore high, middle, low levels in their spots, heavy vs. light or bound vs. free movements with different parts of their bodies. Have you been told "no singing allowed"? Do a flipped classroom model and post songs through Google Slides, Flipgrid, or Loom for them to learn and sing at home. Then use the classroom time to explore other elements of the song, like its history or some music theory, composition, or improvisation activities. Not enough scarves for all of your students? Use tissues! No rhythm sticks? Use pencils or markers! The body itself is a great instrument, so replace music instruments with various body percussion actions and layer those sound effects for cool music making activities! We as musicians are a creative bunch, tap into that creativity for your lessons!
Also, don't forget the power of asking around and/or searching online for inexpensive music instrument alternatives and materials! See if your local parent-teacher group or education foundation can help you with some supplies. There may be other teachers also seeking financial help from them, but it doesn't hurt to ask for your program, too. Check out local online groups, whether on social media (like Facebook) or other local online forums and put out a request for donations. And if it comes down to reaching into your own pocket, search for bulk pricing deals from online vendors, craft stores, or hardware stores. The discount or dollar store isn't always the most cost effective option...do some online research and shop around. Thinking creatively and outside the box is key, especially since music teachers have multiple grade levels to consider.
I hope this gives you a starting place as you consider what you can do on your end to make the upcoming year as successful as possible, given the circumstances. It won't look the way you intended, but that doesn't mean students won't gain musical knowledge and skills from your lessons this year. Even as one who has been teaching from a cart for many years, I also find myself in a place where I have to re-evaluate the coming year and change up how I've done things in the past. So we're in this together!
I'd love to hear your thoughts or any ideas that *you* have about teaching in limited classroom space. Or if you have any questions, please feel free to share in the comments below!
Encouraging you to rock as you roll,